1. Introduction (Corrugated Steel Sheet/ prime Hot Dipped Galvanized Corrugated Steel Sheet)
HDG & PPGI
A Base Sheet: Galvanized Steel Sheet/ GI sheet
Corrugated sheets are made from Galvanized steel coils, Galvalume Steel coils, Galvalume Pre-painted
sheet and aluminum sheet, pre painted hot dip galvanized steel coils.
Corrugated steel roofing sheets are featured with easy installation, high strength and low in lost.
They are widely use as the wall or roof of prefab house, factory, warehouse, garage, exhibition center,
cinema etc.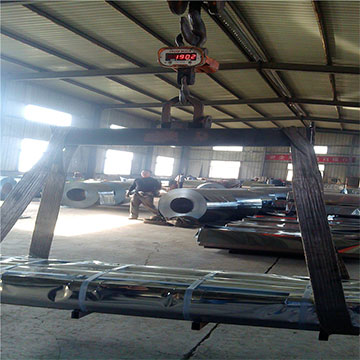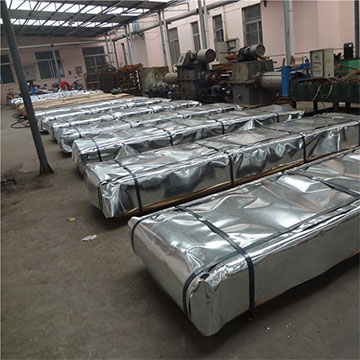 B Coating:
Organic fluorine resin which has good appearance of anticorrosion. Its coating has good adhesion,
high tenacity.PE PVDF Surface finish coats can be calssified into groups as follows: polyester(PE),
silicone modified polyester(SMP), High durability polyester(HDP), polyvinylidene fluoride(PVDF).
Then the ppgi coil will be roll formed by roll forming machines. Its thickness and color can be different.
2. Specification for Color corrugated steel sheet
Goods name

Corrugated Steel Sheet/ Prepainted Galvanized (PPGI) Corrugated Steel Sheet

standard

JIS G3312, ASTM A 653

Material

Cold Rolled Steel

surface treatment

chromated /oiled/skinpassed/dry/ anti-fingerprint

Color

Any RAL color As customers' request

Brand

CSTARS

Quality

Prime quality

Certificate

ISO9001:2008

Thickness

0.12-0.50mm

Width Choose

665mm,700mm,750mm,800mm, 840mm, 850mm, 900mm, 1000mm etc

Length

2440mm, 3660mm or As costomer's requirements

Grade

SGCC/DX51D/SGCH

Zinc

60-120g/m2

Base sheet

Hot dipped galvanized steel coil in colors / PPGI Coil / PPGL Coil

spangle

zero/minimized//big /regular spangle

usage

roof, walls, ceiling and fence

 application

Gymnasium, factories, workshops, warehouse, residential, carport, farmer's market

and the highway coaming

MOQ

25 metric tons

payment terms

30% TT in payment, balance 70% TT should be paid after receiving the copy of B/L

Characteristic

1. weatherproof

2. heating insulation

3. fireproof

4. anti-rust

5. sound insulation

6. long life span:more than 25 years

Other Models

Raw material 762mm to 665mm-680mm (after corrugated) and 9 waves

Raw material 914mm to 800mm-890mm(after corrugated) and 11 waves

Raw material 1000mm to 900mm or 920mm(after corrugated) and 12 or 14 waves

Raw material 1200mm to 1070mm(after corrugated) and 17 waves

2. PPGI Corrugated Sheet / Prepainted Galvanized Sheet

YX25-207-828, YX28-207-828, YX30-207-828, YX25-210-840(Glazed tile), YX25-210-840, YX15-225-900, YX27-190-750/800/950, YX25-210-1050, YX28-280-840, YX40-320-960, YX40-320-980,YX10-130-910, YX35-120-750, YX12-65-850, YX30-20-800, Other design can be customerized as per your demand.
Chemical Composition
| | | | | | | |
| --- | --- | --- | --- | --- | --- | --- |
| GRADE | C | Si | Mn | P | S | Ti |
| SGCC/DX51D+Z | ≤0.10 | ≤0.50 | ≤0.60 | ≤0.10 | ≤0.030 | ≤0.020 |
| DX52D+Z | ≤0.10 | ≤0.50 | ≤0.60 | ≤0.10 | ≤0.030 | ≤0.020 |
| SGCD/DX53D+Z | ≤0.10 | ≤0.30 | ≤0.50 | ≤0.05 | ≤0.030 |  ≤0.020 |
| SGCE/DX54D+Z | ≤0.10 | ≤0.30 | ≤0.30 | ≤0.03 | ≤0.020 | ≤0.020 |
| DX56D+Z | ≤0.10 | ≤0.30 | ≤0.30 | ≤0.03 | ≤0.020 | ≤0.020 |
| Structural | ≤0.20 | ≤0.60 | ≤1.70 | ≤0.10 | ≤0.045 | |
Mechanical Properties
| | | | |
| --- | --- | --- | --- |
| Grade | Yield Strength MPa | Tensile Strength MPa | Elongation % |
| SGCC(DX51D+AZ) | ≥205 | ≥270 |  ≥22 |
| SGCD(DX52D+AZ) | ≥140 | ≥270 | ≥38 |
| S250GD+AZ | ≥250 | ≥330 | ≥19 |
| S350GD+AZ | ≥350 | ≥420 | ≥16 |